Black cotton steel boned front lacing underbust corset
Description
Another one of our fabulous favourites, anyone who knows us, knows that we just love this corset pattern because it is so versatile and easy to wear. This particular corset style has been very popular for completing black wedding dresses, bridesmaids ensembles and steampunk outfits for bridal parties and wedding guests alike whilst being easily worn again for future events making it great value for money.
All of our corsets and gowns are designed and made from scratch, in-house in our UK studios.
Made with four layers of specially hand selected fabrics including a durable black cotton drill and steel boned throughout. This corset is designed for tightlacing with two part eyelets set in re-enforced double boned channels perfect for tightlacing and creating that stunning hourglass shape.
Here is a link to our measurement guide, you can give us your measurements during the checkout process or send us an email if you would like to chat about it:-
https://www.boundbyobsession.co.uk/content/size-guide-and-measurements

Feel free to get in touch with any questions that you may have!
More Details
Fit:- Made to measure
A unique pattern will be drawn up to your exact measurements
Cut:-
Our Classic Victorian overbust corset is cut from an original victorian corset pattern, constructed using traditional methods with cloths and fabrics as close to the originals as we can get.
Full overbust corset
Supports the bust
Reduces the natural waist by 4 inches
Construction:-
Decades of research and skills go into the construction of the corsets and dresses. All of our corsets are:
Steel boned throughout
Lined and interlined in heavy cotton for strength and breath-ability
The Seams are all reinforced and triple stitched for strength
The eyelets are set in re-enforced channels for tight lacing
All or our gowns can be customised or if you need something even more special and unique, a full design service is available. Please email us for more information and prices.
Measurements
The next two diagrams are designed to help show you where to take your measurements and to show a little more about what they mean in relation to your corset. Measuring the length of your body at precise points ensures the most accurate and comfortable fit.
Measuring around your body, holding the tape measure firmly but not too tight, it shouldn't interrupt the line of the skin or the corset may pinch. Make sure that the tape measure is even and level right the way around your body to ensure the most accurate measurement.

A - Chest - Where the top line of the corset will sit.
B - Bust - The widest part of your natural bust.
C - Underbust - Where your bra strap would sit.
D - The narrowest part of your waist, usually about 2 inches above your belly button.
E - High hip - To accurately gauge the curve from the waist to the bottom line of the corset.
F - Full hip - The widest part of you hip where the lowest points of the corset will sit.
Measuring down the side of your body, take care to be as accurate as you can, take the measurement from the same level as you took the horizontal measurements.


1 - Chest to bust.
2 - Bust to underbust.
3 - Underbust to waist.
4 - Waist to high hip.
5 - High hip to full hip.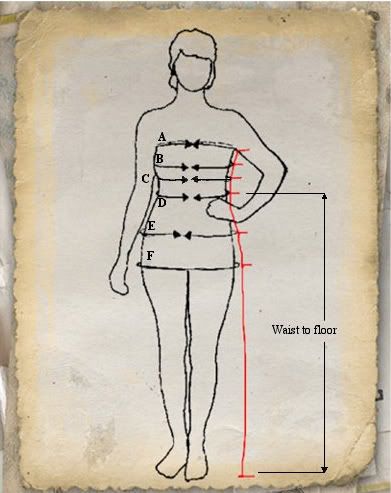 Of course, do feel free to
contact me
with any questions or leave a comment here, the more the better, it's so worth it to make sure that we get everything perfect!
Returns
At Bound By Obsession, we stand by the laws set out by the UK office of fair trading in distance selling and take pride in upholding your rights as consumers.
If in the unlikely event that you are not happy with your garment, do just send it back, please inform us as soon as possible so that we can make the transaction as smooth as possible for you.
We may request a little information for identification and security.
We can only send refunds directly to the bill payer, the contract of sale is not transferable.
We will need to have received the returned item before completing the refund or exchange.
You have 14 days from receipt of a stock garment to return it in its orginal condition with labels and tags still in place and unworn for a full refund or an exchange.
You do not need to give a reason but we would appreciate the information.
Although made to order garments are classed as custom work, we choose to offer refunds and exchanges anyway.
Please be aware that refunds may take a few days to process.
We can not accept returns for custom work.
You have 14 days from placing a custom order to cancel, however the cost of any work carried out within those two weeks will have to be covered.
Please take care when taking your measurements for custom garments, we will make alterations and would never leave a customer with a garment that didn't fit them correctly but this could increase the costs for you. If you are unsure about any aspect of the measurements, please do get in touch, we are happy to spend as much time as you need helping with the measurements.

If you have any questions at all, do feel free to contact us here or email boundbyobsession@live.co.uk
Shipping
Shipping is free anywhere in the world!!!
Items going to the UK will be shipped via royal mail special delivery if there are any disruptions we will use a courier.
Items going abroad will be shipped via Royal Mail Airsure, again if there are disruptions we will use a courier.
The gowns come very close to 2kg, which is the maximum weight for a package. Orders over 2kg will be divided up in to two packages which will be sent separately with their own tracking numbers,